Yamaha EF4000DE/D Generator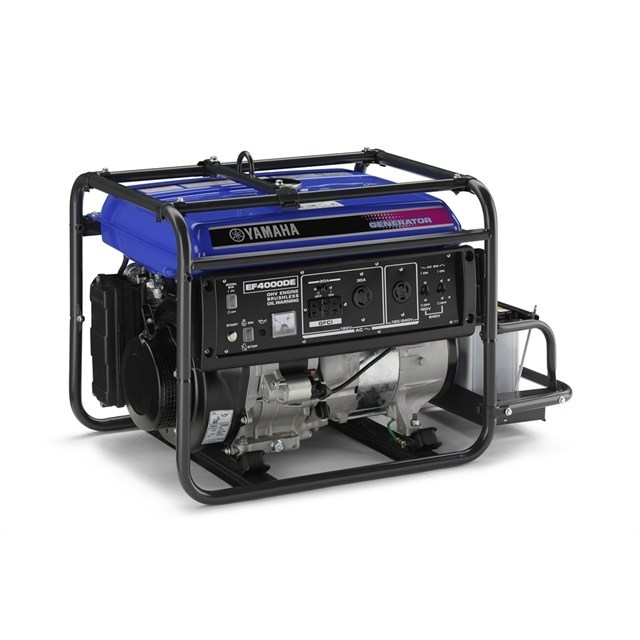 click on image for larger view
Yamaha EF4000DE/D Generator
Product Description
Buy Yamaha EF4000DE/D Generator at stadiumyamaha.com
Full power, full time 120/240 dual voltage — Highly versatile.
OHV engine — Improved efficiency, increased reliability, quieter operation.
Advanced combustion chamber design — Improves power output and fuel efficiency.
GFCI — Ground Fault Circuit Interuption shut off power. It senses a leak to ground to reduce risk of electric shock.
Cast iron cylinder lining — Provides long engine life and consistent performance during continuous use.
Transistor Controlled Ignition (TCI) — Fast, easy starting, reliable operation, maintenance-free.
Oil Watch Warning System — Prevents engine damage to avoid costly repairs and minimize down time.
Recoil starter — Dependable operation wiht auto decompression for easiset pull.
Economy idle — Improved fuel efficiency and quieter operation.
Auto-choke system — Easier starting, especially in cold weather.
Voltmeter — Easy monitoring of power output.
AC non-fuse thermal circuit breaker — Added durability and peace of mind.
EPA & CARB Emission Engine Life Rating — Yamaha generators have the longest emission engine life ratings issued by the environmental Protection Agency and the California Air Resources Board.
50 state legal — Meets emission regulations, including CARB.
Lifting eye — Convenient for hoisting.
EF4000DE ADDS: Electric starter* — Ease of operation

The EF4000DE/D are the "all-star utility infielders" of the Yamaha generator team. They do everything well, quietly, efficiently, and still have power in reserve. The EF4000DE/D have the Yamaha 357cc OHV engine with a unique combustion chamber design that enhances power output and efficiency.
For those who want the power and glory of electric starting*, there's the push-button start EF4000DE with all the same features and specs as the manual-start EF4000D.
Thanks to its extra-large fuel tank, the EF4000DE/D can run continuously for 8.2 hours at rated load without refueling.
The EF4000DE has the convenience of electric starting*.
Full power, full time 120/240 dual voltage which allows you to run multiple appliances that require 120 or 240 voltage making it highly versatile.
Yamaha's Oil Watch warning system prevents engine damage, avoiding costly repairs and minimizing down time.